OUR HISTORY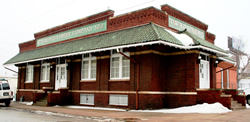 Today, Chicago Lumber Company of Omaha continues to operate under the same name as established in 1876. The company was founded by M.T. Green, owner of Chicago Lumber Company of Chicago, Illinois, at the original site in downtown Omaha,NE on Seventh and Douglas. As times have changed, from 1876, with the invention of the American telephone by Alexander Graham Bell, to today, with the use of Cellular phones and computers, so has Chicago Lumber Company of Omaha.
Chicago Lumber Company has developed into a diverse company selling building materials to its strong customer base. Established as a supplier of lumber, plywood and boards, the company currently distributes a major brand of windows and doors and other building material products to customers in Nebraska, Kansas, Iowa, Colorado and Wyoming. The company continues to own hometown retail lumber yards, which serve communities in Nebraska and Wyoming, known as Century Lumber Centers.
Headquartered at 1324 Pierce Street in Omaha, NE, Chicago Lumber Company continues to operate as one of the oldest lumber companies in the country. The company strength is the employee ownership and dedicated employee base, which has allowed the company to service its loyal customers since the beginning. The company continues to strive with the vision to be around another 100 years to better serve customers with new products and services.
Click on the logos below to learn more about the other Chicago Lumber Companies
WANT MORE INFO? CONTACT US
It has been a year now since we had the Marvin Bay Window installed in our kitchen remodel so it has tested through the summer and winter months. We really have enjoyed our new window and are happy with our decision. We are very pleased with the service which we received. Our salesperson helped us through the process of what we needed and right through our installation. We could always depend on him being here at the exact time we had scheduled. He was a pleasure to work with. Our installer also did a very good job and we were very happy with the way in which this bay window was installed and how it looks from the outside also. It looks like it was always a part of our house. We wanted to let you know that we do not hesitate in recommending Chicago Lumber (Marvin Windows) to others.

We would like to express our satisfaction with your company. Everything was well coordinated. The product was ordered correctly, delivered on time and installed as promised. The work our installer did was exceptional. The windows were installed beautifully, especially the Bay window. We've given your company name to a couple parties interested in purchasing new windows. We had to let you know how very pleased we are! Thank you!

The service and courtesy to us were exemplary. The service given to us made the entire job enjoyable. When we have the occasion to recommend windows to someone we will without hesitation recommend The Windows and Doors Store and The Chicago Lumber Company.

Thank you for giving up time on a sweltering Sunday afternoon to fix our window problem. Your service during the selection and installation of our windows was top notch but your support after installation went above and beyond. I would whole heartedly recommend Marvin Windows to anyone. Thanks again!

We are very happy with our new patio door and the blinds. I was worried over the whole re-doing of our door, but this is great! Also your installers who put the door in were very good representatives of your company. They had manners, cleaned up, were very professional and friendly. Thank you!